Do you need more? How much?
The Design Team at The Cleary Company Remodel-Design-Build in Columbus Ohio is here to help! Through the design phase of planning your remodel, our experienced Designers and Design Consultants will educate and help guide you to make the best lighting decisions for your project. We prefer a layered approach of mixing different lighting types for decorative interest but also for better function.
Lighting can be a very personal choice as well. Many clients ask us to include more lighting, especially those with older homes because chances are there just isn't enough of it. Some clients prefer a lot of recessed lighting to brighten up their home while others choose to use them sparingly. Lighting is categorized into four main types.
Just like each room in your house has its own purpose, so does each type of lighting.
Ambient or general lighting provides overall illumination for a room. These can be fixtures such as recessed cans, semi-flush ceiling fixtures or chandeliers.
Task lighting provides increased illumination for actions or spaces that require an attention to detail. Like under cabinet lights in a kitchen. Most often it is used along with ambient light.
Accent lighting directs light to focus or highlight a particular area or object. Most common types are sconces, flood, or track.
Decorative lighting's purpose is to make a statement or adding character to a room. Sometimes the fixture itself can be art or a conversation piece!
Also, don't forget to consider natural light when planning your remodel. These conversations with our clients about their lighting needs are always illuminating (see what we did there?). Our Design Team is here to help you through every decision. So, what type of lighting works best in each room?
What types are best for your space?
Kitchens:
Recessed cans or pucks are fixed fixtures that provide overall illumination across the entire room.
Task lights like undercabinet LED strips are needed above countertop work areas. Task lighting is also helpful above your range and sink. Pendant lights and chandeliers are the gold standards for island lighting!
Accent lighting adds more function but can also add a bit of drama. Think about tape-lights and downlights to light up hidden areas or to feature areas in your kitchen, such as open shelving, or glass-front cabinets.
Dining areas:
Recessed lighting, chandeliers, and flush-mount all serve well in a dining room. Create overall light with recessed and flush mount lights, and add some drama, mood, and decoration with a chandelier.
Living rooms/Family rooms/Bars
Adaptability is the key here. You'll want cozy lighting, reading lights, dimmable lights, as well as ambient lighting. These rooms multi-task, so the lighting needs to as well.
Bedrooms and Bathrooms:
This is where you get ready for the day, so plan on some well-lit areas within in these rooms. Sconces are a great lighting choice for both spaces. Fixtures that flank mirrors won't cast unwanted shadows. In the bedroom, sconces that hang above the bed or to the side leave nightstand areas free for your favorite books or photos.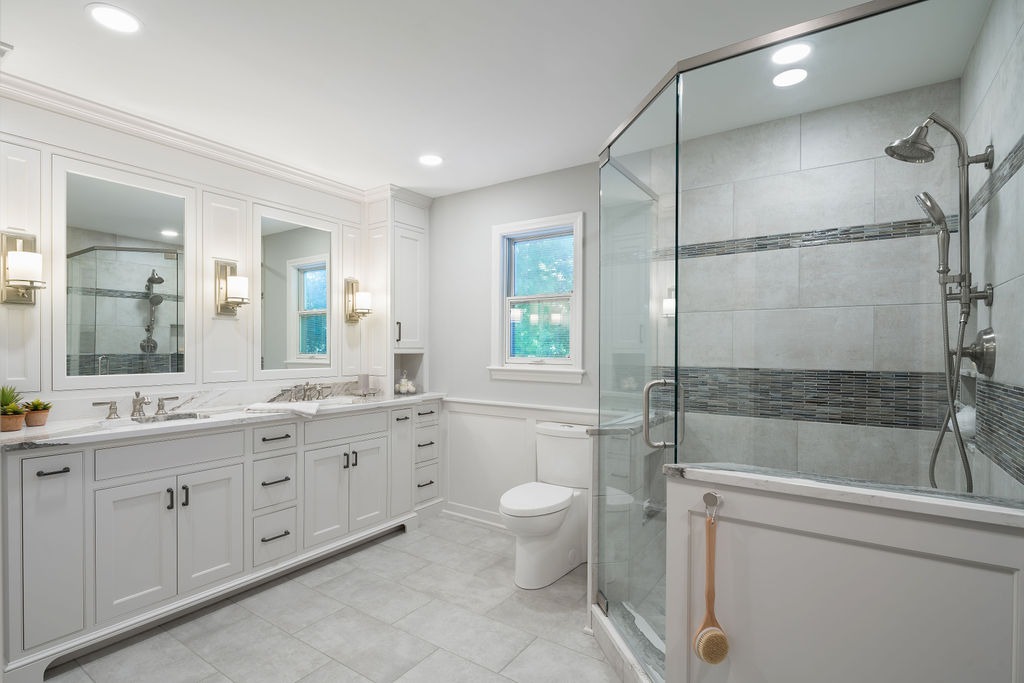 Rest assured, our designers will work with you to determine your family's needs for lighting and help you create the best lighting options for your home.
Where should you buy lighting for your home remodel?
Retail lighting options are easy to find in the Columbus, OH area. Our preferred vendor partners are easy to work with, have our clients' best interests at heart, and make sure to have what we need. And while we prefer to buy from our local vendors, we also know it's may not always be the best option for your project. Our Team also has a few go-to online specialty lighting retailers.
Circa Lighting opened a new showroom in 2022! They've considered every detail of the lighting selection process from beginning to end to make your experience as seamless as possible. Enjoy the ease of a thoughtfully edited showroom and interactive digital displays that show their complete range of products at full scale. From a one-room refresh to whole home lighting design, their experienced lighting designers are equipped to develop multi-layer lighting plans to optimize the look, feel and function of any space at any budget.
Northern Lighting has the best selection of indoor and outdoor lighting on the northeast side of Columbus, Ohio. They've been serving local builders, remodelers and homeowners since 1973. Their entire showroom is dedicated to lighting and lighting accessories! Located in Westerville, it's always an exciting visit looking up at all the unique and stunning lighting options. Their staff is filled with experts with a vast knowledge in lighting techniques and design. Our Design-Build Team collaborates with their experienced staff on both residential and commercial projects and relies on them to help solve lighting issues on our most complex projects.
Ferguson Bath, Kitchen & Lighting Gallery has lighting for every function, style, and feature. We know that when our clients visit their showroom, they most likely will find what they are looking for. The same happens with our designers. If they have something in mind for a particular project, their associates will find the perfect options. Our connections at Ferguson have the knowledge, friendliness and vast selection of gorgeous lighting options and that is why our designers choose to work with them.
And the online options are endless! Two that we know our clients have used are Wayfair and Rejuvenation. Wayfair has many budget-friendly items as well as more expensive options, while Rejuvenation offers some cool and interesting styles. We've even had clients bring us lighting found from an antique or vintage store.
Chase Away Winter Blues!
Our designers have teamed up with Circa Lighting for our January Wine & Design open house. Join us on Tuesday January 31, 2023 at 1400 Grandview Avenue 43212 for a VIP tour with refreshments. For more details visit our blog or RSVP via Evite.
Lighting can completely transform a room. When we remodel your home, we are transforming how you live and function within those spaces. Lighting brings it all together!
If you have been illuminated by this article and are ready to begin your remodeling project, contact us! We will show you the light…